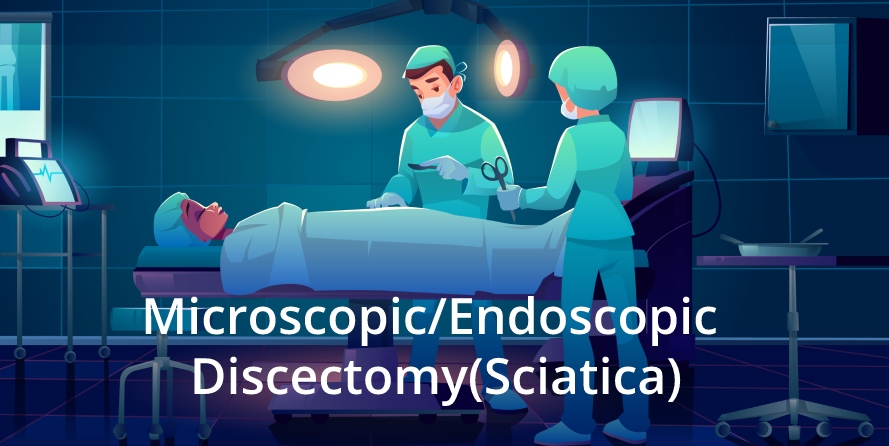 Leave your details for a callback
Have you been recommended to go in for Microscopic/Endoscopic Discectomy(Sciatica)? Get an expert opinion if you really need it.
Microscopic/Endoscopic Discectomy(Sciatica)
What is lumbar disc prolapse(sciatica)?
Disc is a soft rubbery structure encased in tough outer layer which acts as a cushion between two spinal bones(vertebra).
Disc prolapse results from protrusion of disc material from the cracks in the outer tough layer.
Symptoms of sciatica develop when the protruded disc starts putting pressure over the nerve root causing its irritation leading to back ache, pain travelling from buttock area to thigh, leg and foot.
Patient may have difficulty in walking and bending forward with restriction of day to day activities in severe cases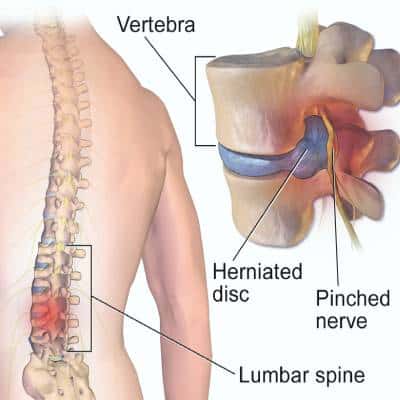 Why should you opt for Microscopic/Endoscopic Surgery?

Removal of protruded disc material releases the pressure over the nerve root

Dramatic decrease in the symptoms

Minimally invasive technique with incision size < 1-2 cm

Return back to work on very next day


360° improvement in quality of life
The classical symptoms of disc prolapse where patient complains of pain in the either of the buttocks with radiation to whole of the leg(one or both) along with thorough clinical examination establishes the diagnosis of disc prolapse.
MRI is the best investigation for confirmation of the diagnosis.
Failed conservative treatment given in the form of medications, physiotherapy, epidural injections.
Restricting daily routine activities.
Development of weakness in the feet and toes.
Numbness or decreased sensations in the feet or buttock area.
Inability to pass urine or stool.
Why Orthocure Surgery+ for Microscopic/Endoscopic Discectomy (Sciatica)?
High quality of endoscopy and microscopy equipments.
Highest standards of surgical facilities at our partner hospitals.
Lowest risk of infection and other complications.
Instant improvement in symptoms.
Return back to work within next 24-48 hours.
Best implants from International manufacturing brands.
Modular operation theatres.
Dedicated OrthoBuddy for holding your hand all through the journey.
End to end seamless patient care ranging from pre op physiotherapy to admission to surgery to discharge and complete recovery.
All insurances covered.
Best spine surgery expertise for better results.
Dedicated team of physiotherapists to ensure quick and complete recovery.
Transparent pricing and estimate for surgery.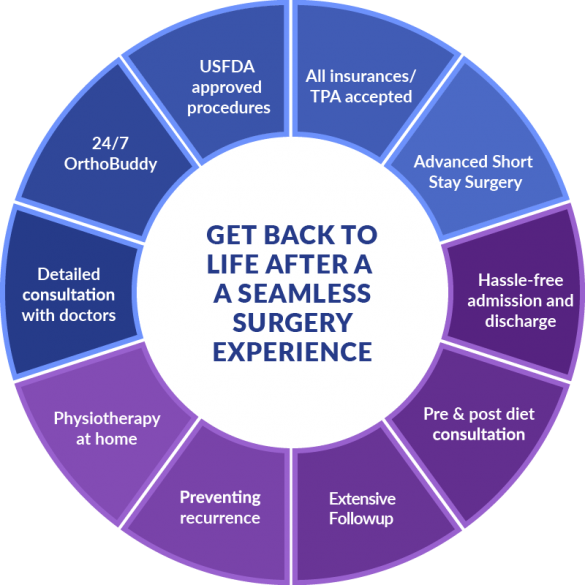 Aim is to convert the surgery related painful experience into a beautiful journey to complete recovery.
Partnering with the best Hospitals for Surgeries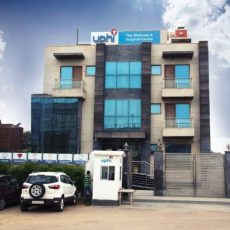 ​​​​UPHI is a state of the art surgical setup located on Golf Course Road, Sector 43, Gurgaon. It is built with International Standards and has a Center of Excellence for Orthopaedic Surgeries with super-specialized Operation Theatre with most advanced surgical equipment. The centre is equipped with round-the-clock ICU facilities and doctors.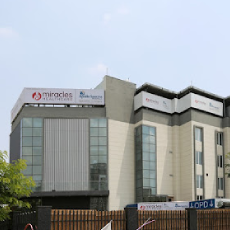 Miracles Healthcare in collaboration with Apollo Spectra hospitals has developed a Multi-Specialty Hospital in Sector 82, Gurugram. The centre is equipped with advanced Orthopaedic surgical facilities with modular OTs and critical care facilities. The hospital brings Apollo Spectra's superior surgical capabilities backed by modern surgical intensive care units (ICUs) for complete post-surgery support.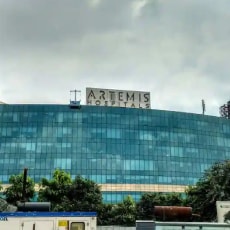 Artemis Hospital is a 400 plus bed; state-of-the-art multi-speciality hospital located in Sector 51, Gurugram. Artemis Hospital is the first JCI and NABH accredited Hospital in Gurugram. Designed as one of the most advanced hospitals in India, Artemis provides a depth of expertise in the spectrum of advanced medical & surgical interventions, a comprehensive mix of inpatient and outpatient services.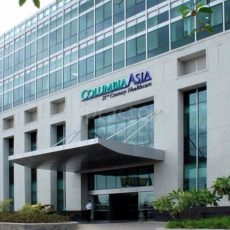 Columbia Asia Hospital is a 90 bed multi-specialty facility situated in Palam Vihar area, Gurugram. The hospital is a preferred healthcare service provider for the residents and corporate entities of Gurugram. The hospital offers orthopedics clinical services with qualified and experienced medical personnel and technicians ensuring healthcare delivery of the highest standards.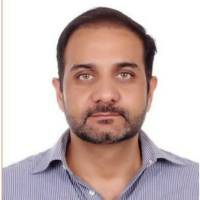 Dr. Umair Firdos (MBBS, DNB(Ortho))
Do you think it takes many months to recover after a Microscopic/Endoscopic Discectomy(Sciatica)?
An integrated approach in facilitating surgeries, from pre-operative care to post-operative rehabilitation and
minimising recurrence.
If you've got questions, send us a message.
Our Email
enquiry@orthocure.co.in
After we get some information from you, we'll set up a time
 to discuss your issue in further detail.